Virtual Private Server Hosting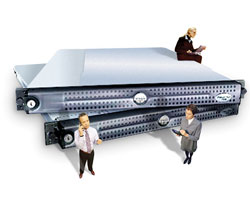 Virtual Private Servers: RRDNSHosting.com offers reliable and cheap Virtual Private Servers tailor made for your budget. The VPS containers are hosted on Quad Core machines with 8-12G memory to guarantee your optimal performance and resource allocation.
Complete Control, High Reliability and Stability Guaranteed: You control your own container and can monitor its stablity from your control panel itself. The top quality hardware on the servers and 99.99% Network Uptime Guarantee provide high reliability to your VPS. Automated service monitoring adds more stability as well.
VPS Features: Our plans include all the features listed below:
| Virtual Private Servers | Copper | Silver | Gold | Platinum |
| --- | --- | --- | --- | --- |
| Disk Space | 30G | 50G | 80G | 120G |
| Bandwidth | 300G | 500G | 1000G | 1500G |
| RAM - Guaranteed | 256M | 384M | 512M | 1024M |
| RAM - Burstable | 384M | 512M | 768M | 1536M |
| CPU | 400 Mhz+ | 533 Mhz+ | 800 Mhz+ | 1600 Mhz+ |
| IP Addresses | 2 | 3 | 5 | 8 |
| Free WHM/Cpanel | | | | |
| Full Root Access | | | | |
| Pricing | Micro | Mini | Mega | Jumbo |
| --- | --- | --- | --- | --- |
| Setup Fee | Free | Free | Free | Free |
| Monthly | $44.99 | $54.99 | $74.99 | $99.99 |
| Yearly | $449.99 | $549.99 | $749.99 | $999.99 |
| Free Addons with Yearly Payments | 2 Months Free | 2 Months Free | 2 Months Free + Free IP | 2 Months Free + SSL |
| | | | | |